Financial management courses with Online Business Simulation
Course objectives / Learning objectives
The goals of a financial management course with SimTeam would be to obtain an understanding of and the ability to use basic business financial management concepts and tools of analysis such as fundamentals of accounting, financial statement analysis, controlling, planning/forecasting, cash flow/liquidity management, corporate valuation, cost of capital and capital structure.
Topics covered
Financial accounting
Management accounting
Controlling
Liquidity management
Cash flow analysis
Planning / forecasting
Cash flow forecasting
Analysis of financial reports (Balance Sheet, Profit & Loss statement)
Financing
Corporate valuation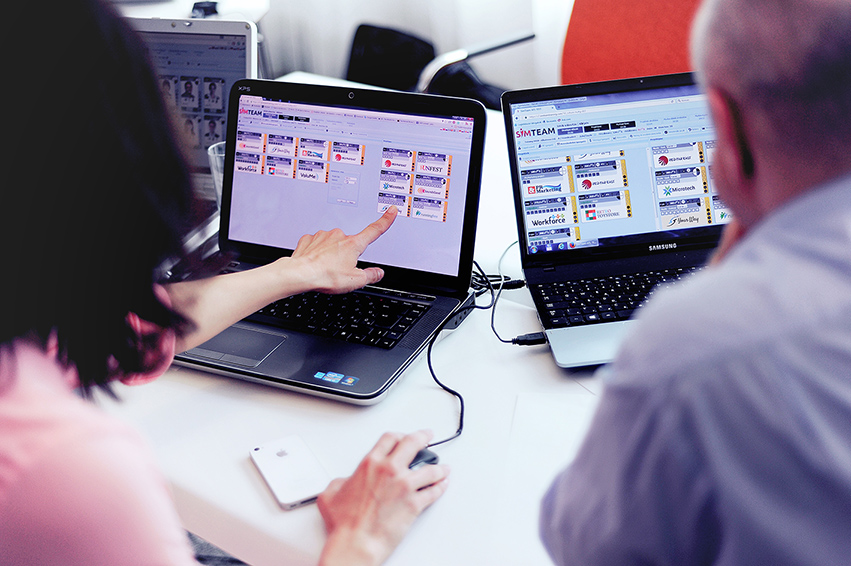 Participant Learning Outcomes
Understand the basic accounting model
Analyse and interpret financial statements
Measure a firm's risk; explain what determines this risk, and how it affects the value of a firm.
Analyse a firm's performance to determine its strengths and weaknesses, and be able to use financial analysis to improve performance.
Understand the different cost categories and the margin structure
Understand the budget process and forecasting techniques
Forecast a firm's future operations and financial needs.
Discuss the various methods for analysing projects, how to apply them, and what to do if there are conflicting recommendations.
Realise why "cash is king"
Describe what determines the value of a firm and how management can influence these value drivers.
Identify key value drivers to help manage the value of a business
Understand different valuation techniques and respective benchmarks
Apply basic valuation concepts.
Link financial objectives to strategy
Define what leverage is; explain how a firm influences its leverage, and how leverage affects a firm.
Apply management accounting tools to business problems
Who should attend?
Finance for Non-Financial Managers is aimed at all managers, whatever discipline they may be from. More importantly, it is not trying to make people into accountants; rather it aims to give business people the tools to understand the numbers in order to help them make better business decisions.
Financial course with specific topic(s) (e.g. cash flow management) for any audience that is interested in the topic.
Financial course at business school or university for students who have finance related courses and access to computer environments.
Suggested training outline
Single course
The following structure is suggested for the course:
Knowledge transfer (presentation) relating to the selected topics (presentation) - (1-3 hours)
Introduction of the learning environment, explanation of the rules of the simulation - (0,5 - 1 hour)
Setting the targets for the teams - (0,25 hour)
 Run a SimTeam simulation as an extended case study - (2-6 hours)
During the simulation, give assignments related to the selected topics (e.g. analysis of financial results of the model enterprises; preparation of business plan / cash flow forecast in Excel spreadsheet; calculating the value of the enterprise; presenting the results)
Evaluation and feedback - (0,5 - 1 hour)

Total time requirement: 0,5 - 1,5 days
Multiple session course
The course can also be organised in multiple sessions. In this case each session can be 1,5 - 3 hours. This type of course can be set up in different formats:
Every occasion starts with a knowledge transfer session, after which the students participate on a SimTeam Case Study related to the given topic (i.e. the simulation sessions are not linked).
Throughout the course, one simulation is saved and continually used to demonstrate certain topics (e.g. at a certain point the participants analyse the results, at another time they prepare a cash flow forecast).
Example of final report of the simulation